LSG's
Mohsin Khan
on what makes him tick, why dot balls rule and how he made his mark this season…
Left-arm seamer
Mohsin
Khan was a bright streak in
Lucknow Super Giants
' maiden
IPL
campaign. Although an India cap has eluded him for the moment, expect to hear more of this cricketer from Sambhal in UP who impressed with his skills and poise under pressure.
Mohsin has used his height, hit the deck hard, hurried batters and created problems with his angles and slower ones. Some decisive spells have ensured the best Powerplay economy rate (5. 25, minimum 10 overs) of all bowlers this season. TOI caught up with the 23-year-old during the playoffs for a quick peek into his methods.
Excerpts…
Decluttering the mind
When I mark my run-up and run in to bowl, my mind is blank. The intent is to back your strengths: jo mera normal ball hai, usi ko daalna hai. I back myself to bowl the good deliveries I have.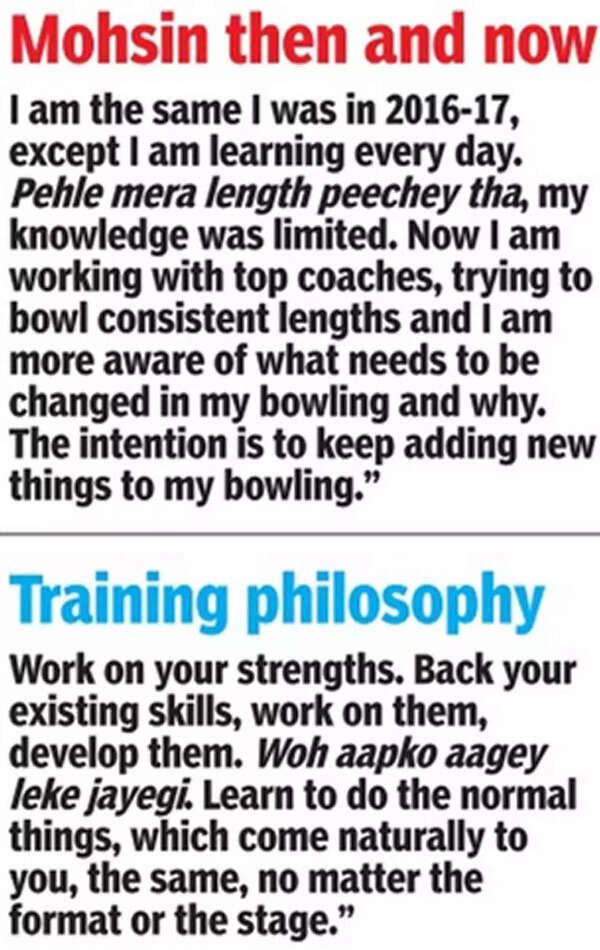 Growing in the LSG ranks
I was with Mumbai Indians for three years. It was a very big team. I got opportunities in the middle but bana nehi khelne ke liye. Now I am here with LSG and the coaches, captains are supporting me… bahut achchi family hai. Lucknow has given me opportunities to perform and I have done whatever I could to impress them and make an impact.
Learning from Mohammed Shami
I spent a lot of time with Shami bhai during the Lockdown. A pitch was being made at his place and it was taking a lot of time, so initially we worked a lot on our fitness. He kept telling me that these things (fitness) are very important and will come in handy later. After that, woh jo jo batate they, mein karta gaya. Meine hamesha unki baat pe dhyan diya. I diligently did all the things bhaiya told me to do. Even in future, whatever he tells me to do, I will focus on that and keep doing it.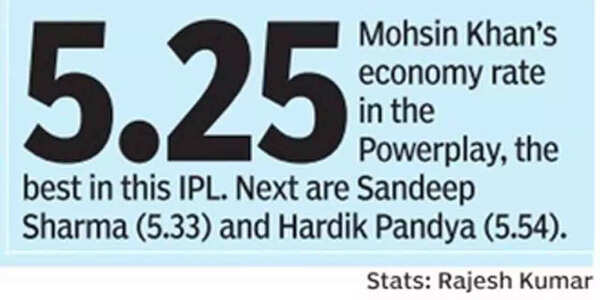 Dots lead to wickets
The intention in the IPL should be to generate more dot balls and put the batsman under pressure. Zyada dots, zyada wickets.
Pace is the key
My desire, since the beginning, from the time I have taken a ball in my hand, has been to bowl fast. I have not focused as much on swing and seam as on pace. I will keep bowling fast. Bowling fast is key.

Injury as learning curve
The toughest time I have had so far is the two years when I injured my shoulder after my under-16s. I learnt a lot… how to keep fit, motivate and back myself. When negative things enter the mind, one needs to keep one's focus. In those times, apney aap ka bahut zyada dhyan rakhna padta hai.
Early years
My brother, who was a very good cricketer, introduced me to cricket. I used to play a lot with tennis balls but my brother insisted I start proper training and practice.
Role model
Zaheer Khan. I have grown up watching him and spent a lot of time with him.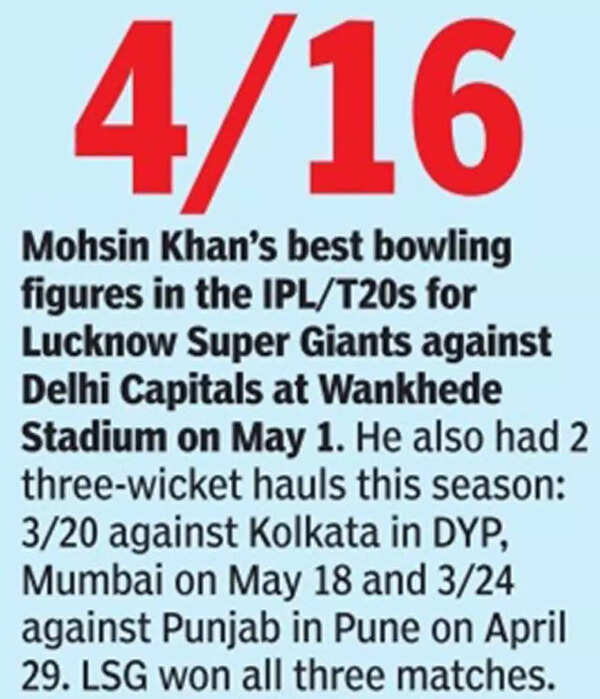 First coach
Badruddin Siddique. He was also Shami bhai's coach. Badr sir ke saath me shuru se tha. Whatever he used to tell me, I have done. He has helped me a lot and I have done a lot of work with him.
Using the angles
As a left-arm seamer, the key when there is no swing or seam happening is to use the angles. One has to create one's angles depending on how the wicket is playing. After a while, situation khud hi dekh ke samajh me aa jata hai.
The wishlist
My parents have now seen me bowl in IPL. They have always done dua. Every cricketer's dream is to play for the country. My dream too.