American teen, more mature now, up against favourite
Swiatek
in the final
PARIS: Coco
Gauff
's laughter is halting, that's until it touches her eye and lights up her face. It sparks composure and conviction, signalling she's exactly where she wants to be.
Who Gauff is, and what she does, her passion which is her profession, have merged in a seamless force that has pivoted her to superstardom at just 18. She's a person first and then a tennis player. Gauff, the pro, will take on the rampaging world no.1
Iga Swiatek
for the Coupe Suanne Lenglen on Saturday, and the person, who speaks with the same determination as she swings her racket, brings balance to the composition. It's a whole page.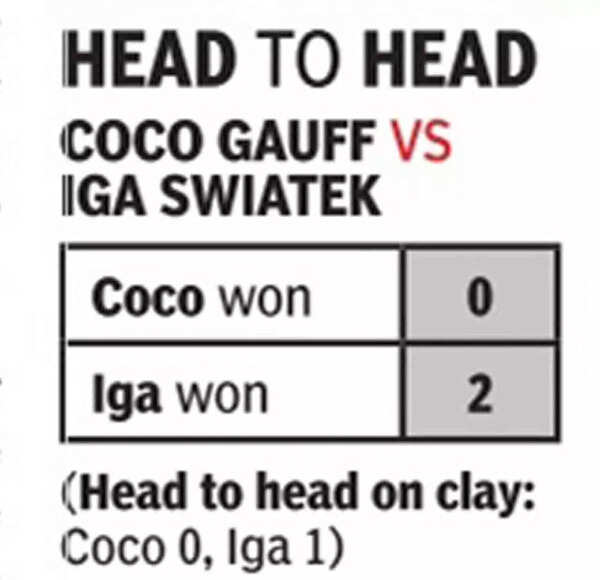 It's been four years since the American teenager, whose victory in the junior championships at Roland Garros in 2018, captioned her as a future champion. Some 12 months later, she worked her way through the Wimbledon qualifiers, beat Venus Williams in the first-round and made the round-of-16, to find that tennis was waiting for her.
The next couple of years was about an inner battle, the weight of expectation, her own mostly.
"There's a fine line between believing in yourself and almost pushing yourself too much," she said of last year's Paris campaign, when she made the last-eight. "I think at that moment I was pushing myself too much to do the results. I was in the quarterfinal, I didn't even enjoy the moment. There's a difference between ready and wanting it too much."
finalsss🥺🤍 @rolandgarros https://t.co/EPfgHmHIJz

— Coco Gauff (@CocoGauff) 1654198392000
And what of the prudence that tells them apart. It's all in the game plan.
It was a conversation with her grandmother Yvonne Lee that helped Gauff burst the pressure bubble she had unwittingly worked herself into.
"My grandmother is always like, you just need to relax when you're out there. I brushed it over, like, you can't relax in these situations," Gauff said. "Now I look at it, I'm like, you're right, I can relax in these situations. It's just a tennis match. It's not the end of the world, there's more to life than tennis."
🙌 #RolandGarros final for the second time on my journey. Grateful to be here and this time with fans on stands. 🙌… https://t.co/v0oJ0VnDQI

— Iga Świątek (@iga_swiatek) 1654194369000
Then came the line ball that kicked the chalk. "There are so many people going through so many uncomfortable situations, for me to be — I mean, obviously being nervous is natural — but for me to think that losing a tennis match is the end of the world, just kind of shows what kind of privilege I have."
Gauff's parents — Corey and Candi – always at courtside when their daughter plays, have not only done a great job with keeping her grounded, but have encouraged her to develop a worldview that she's now unafraid to put down in writing.
🏆👀🏆Look out for @CocoGauff !The 🇺🇸 teenager has a chance to win two trophies this weekend at #RolandGarros and… https://t.co/v1Ri0EaqFa

— Roland-Garros (@rolandgarros) 1654288200000
End gun violence, she wrote on the camera following her semifinal win, drawing attention to the situation in the United States.
"When I was younger my dad told me I could change the world with my racquet. He didn't mean that by like just playing tennis," Gauff said. "He meant speaking out on issues like this. The first thing my dad said to me after I got off the court (after the semifinals) is, 'I'm proud of you and I love what you wrote on the camera'."
Gun violence has been a disruptive, long-term resident in Gauff's thoughts.
📆 Saturday plans locked in!@CocoGauff x @iga_swiatek #RolandGarros https://t.co/VKaEOiOYdv

— Roland-Garros (@rolandgarros) 1654186568000
"I definitely think there needs to be some reform put into place," the teenager said. "I think now, especially being 18, I've been trying to educate myself around certain situations. Now, I have the right to vote, and I want to use that wisely."
Whatever the outcome of Saturday's final, the third chapter of the Swiatek-Gauff tussle, the American's racket will talk, in more ways than one.