NEW DELHI: The
Unique Identification Authority of India
(
UIDAI
) in an advisory has warned against sharing photocopies of
Aadhaar
with any organization, citing chances of misuse.
As an alternative, the notice recommended use of "masked Aadhaar," that displays only the last 4 digits of the 12-digit Aadhaar number. Masked Aadhaar can be downloaded from https://myaadhaar.uidai.gov.in.
It also advised against using a public computer for Aadhaar download.
"Please avoid using a public computer at an internet cafe/kiosk to download an e-Aadhaar. However, if you do so, please ensure that you delete all the downloaded copies of e-Aadhaar permanently from that computer," said the release.
"Only those organizations that have obtained
a User License
from the UIDAI can use Aadhaar for establishing the identity of a person. Unlicensed private entities like hotels or film halls are not permitted to collect or keep copies of Aadhaar card. It is an offence under the Aadhaar Act 2016. If a private entity demands to see Aadhaar card or seeks a photocopy of Aadhaar card, please verify that they have a valid User License from the UIDAI," the notice further said.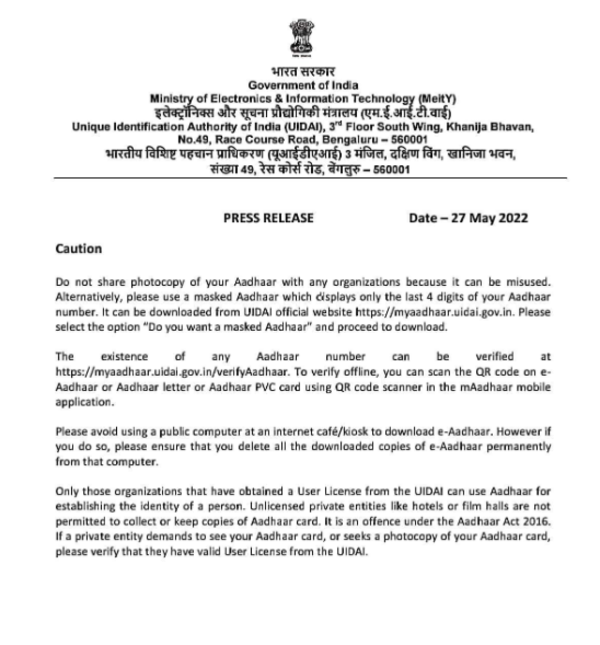 The existence of any Aadhaar number can be verified at https://myaadhaar.uidai.gov.in/verifyAadhaar. To verify offline, one can scan the QR code on eAadhaar or Aadhaar letter or Aadhaar PVC card using a QR code scanner in the mAadhaar mobile application, informed UIDAI.
(With inputs from agencies)